Recipe - Strawberry Rhubarb & Cream Tart
Serves 8-10
---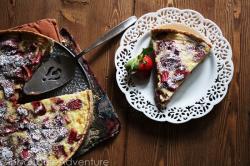 You can get ingredients for this recipe from the market!
Try Rosecrest Farm's organic butter, rhubarb from Ambergardens, strawberries from Sidhu farms, and eggs from Gageby Farms
Ingredients:
For the dough:
2 cups flour [also delicious with part whole wheat flour]
1 stick salted butter (8 Tbsp)
1/2 tsp baking powder
1/8 cup brown sugar
water – about 4-6 Tbsp
For the filling:
1/3 cup flour
1/2 cup brown sugar
1/2 tsp cinnamon
1/2 tsp cardamom
2 cups rhubarb (1/2-1 inch pieces)
2 cups strawberries (quartered)
1 cup heavy cream
2 egg yolks
Method:
Crust
Preheat the oven to 350F.
Pulse together the flour, butter, baking powder, and sugar in a food processor.
Drizzle water into the mixture until it comes together and can be formed into a ball of dough.
Next, press the dough into a 10″ springform pan, being sure to go up the sides at least 1 1/2 – 1 3/4 inches (so the liquid doesn't overflow). Refrigerate until needed.
Filling
In a small bowl, whisk together the flour, brown sugar, cardamom, and cinnamon. In a measuring cup whisk the cream together with the egg yolks.
Add chopped strawberries and rhubarb to a large bowl. Toss with flour mixture until evenly coated.
Add the strawberries to the tart and pour the cream/egg yolk mixture over the top.
Bake until the berries are softened and the cream is set, about 30-40 minutes.
This tart is traditionally served cold, and looks great with a gentle dusting of powdered sugar.
Recipe courtesy of Global Table Adventure http://globaltableadventure.com/
---